John & Candice – Mississauga Convention Centre Wedding
We met Candice just about 2 years ago her friend Samantha was looking for vendors for her wedding which took place last September.  John we met for the first time at Samantha's wedding as Candice came running up to us at the reception and said with excitement "You have to come meet my fiancee John!"  Now just a year later it was time for Candice & John's wedding day in Mississauga.  You can check out their winter engagement photos here.
The day started at their homes in Mississauga before heading off to the Merciful Redeemer church for their ceremony.  Their wedding photos were taken in Riverwood Park and then we were off to the Mississauga Convention Centre for their beautiful reception.
It was an emotionally charged day filled with happiness, joy, laughter and tears.  The love and support these two have from their family and friends is amazing.  Candice's dad, whom we now love too 😀 was so much fun to be around.  His speech at the reception had everyone laughing and his personality is so friendly and kind that you just have to be friends with him.
The details of their wedding day were carefully thought out and executed to perfection, with might I say, stunning reception decor.
You guys are absolutely amazing people and we are so grateful for having been part of your wedding day.  Thank you for choosing us as your photographers.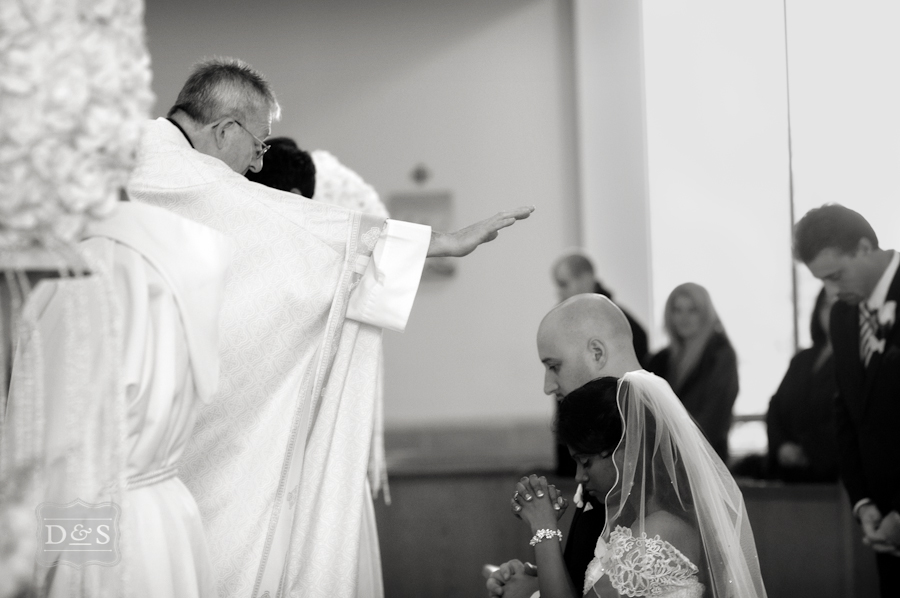 Candice mentioned to us that she loved ring shots, so Sherry got a little bit excited with that and produced some of the most stunning ring shots I have seen!  Way to go honey 😀
Ceremony: Merciful Redeemer Church
Florist: Elegante Decor
Reception: Mississauga Convention Centre
Gown Boutique: Jealous Bridesmaids
Cake: Just Temptations
Tagged: best canadian wedding photographer, best canadian wedding photographers, best mississauga wedding photographer, best mississauga wedding photos, best riverwood park photos, best wedding photographer southwestern ontario, best wedding photographer toronto, best wedding photographers in canada, candice & john, candice and john, David and Sherry, joy wedding, merciful redeemer church wedding, merciful redeemer wedding, mississauga convention centre photos, mississauga convention centre reception, mississauga convention centre wedding, mississauga wedding photo, mississauga wedding photographer, mississauga wedding photography, mississauga wedding photos, riverwood park wedding, riverwood park wedding photographer, riverwood park wedding photography, riverwood park wedding photos, riverwood wedding, stunning reception decor, top canadian photographer, top ontario wedding photographer, top toronto photographer, top toronto wedding photographer, top wedding photographer toronto, top wedding photographers canada, toronto wedding photographer, toronto wedding photography