OH Nicolas… & now Megan… I LOVE, LOVE, LOVE Nic & Megan. Now I'm kind of biased as I have known Nic FOREVER, and the first time I met Megan I knew they were destined to be together forever. Megan is the bubbly,  makes you feel warm and cozy, right at homey type of person.  Nic is all cool, GQ, Blue Steel, and Suave all wrapped into one person. They are such a pleasure to hang out with and to photograph.
David & I had such an AWESOME time doing their Engagement shoot in Chatham, Ontario (which will be posted when I find a spare moment this winter).  We went skating…well Nic & Megan went skating, David & I shot at them…hehehe…with our cameras.
Nic & Megan's wedding took place at Emmanuel Baptist Church in Chatham, Ontario.  Funny story about how the day started… We got a call the day before telling us that the Retro Suites hotel that they had booked to get ready at had a fire!  So plan B was activated and things went off without a hitch.  This is just a little teaser to whet your whistle for a bit….there is more of Nic & Megan's Wedding to come next week.
Now for Our Feature Presentation… For your viewing pleasure please put on your 3D glasses now!…..Ok, Ok you look kind of Dorky and you can take them off now and enjoy the Wedding!
Megan Gettn' all Dolled up!
Love this photo of Megan, her eyes just POP! MezmerEYESing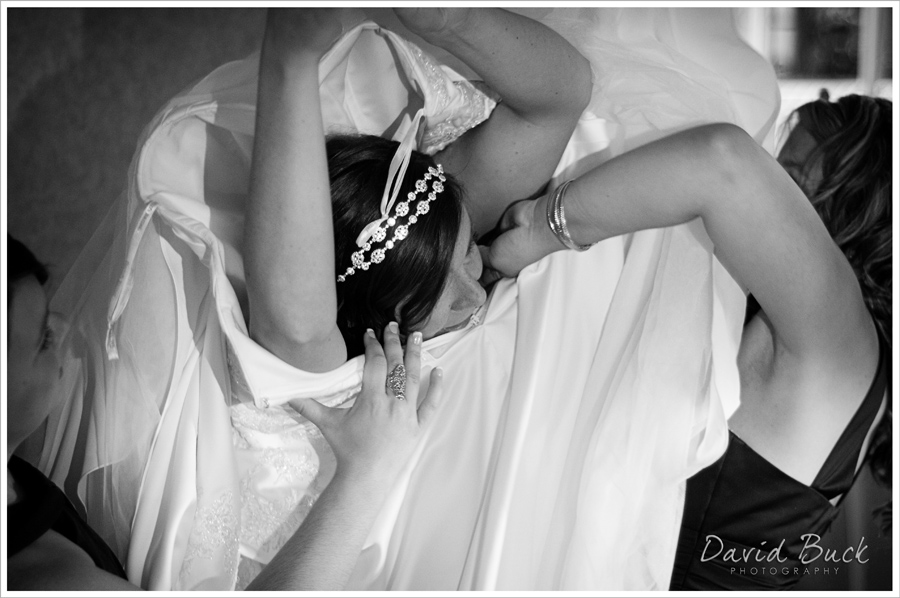 Who needs a GPS when you have the best Bridesmaids in the world to help you navigate your way through your dress.
Sorry Ladies…He's Already Taken 😛
The Reveal… Nic & Megan did their formals before the ceremony….although I'm going to make you wait until after to see the photos. So this is the first time they see each other.
Nic's groom's men razzing him a bit about getting hitched…..only to turn him around and have him see his bride for the first time.
LOVE this photo, so tender, so loving, so sweet….and yes I was crying!
Nic's groomsmen doing a Hi-5 on the way into the ceremony. What a crazy bunch of guys.
Ok so Nic didn't want to look at Megan until she was quite aways down the asile…so he had his good buddy Pastor Mark tell him when she was almost to the front
And here are the different facial expressions he had when he finally did look
And this is what I think he was thinking….1.I love that girl SOOO much 2. Hey man can you believe I get marry her today 3.SWEET  4. Huba Huba
It was so tough for me to photograph the ceremony…my eyes were watering so bad. What an honor to witness 2 people so in love share their vows and promises to love each other forever.
Seems as though I was not the only one crying. I LOVE the adoring way Megan is looking at Nic in this photo.
A little Nic & Megan Kiss before Nic & Megan actually Kiss…this is their "pet" kiss for each other..I think it's soo Cute
INTRODUCING NIC & MEGAN VANDERENDE!!!!!!
(Stay tuned for Part 2..coming soon to a Blog near you.)
Tagged: best chatham wedding photography, chatham, chatham engagement photography, chatham kent, chatham kent wedding photography, chatham wedding, chatham wedding photography, David, david & sherry, David and Sherry, David Buck, david buck photography, Engagement, photographer, photography, Sherry Buck, south western ontario, southwestern ontario wedding photography, windsor wedding photography