Preparing For Your Couplescape
Planning your couplescape adventure starts by imagining what vast landscape you long to have as personal artwork on your walls. For the best outcome contact us early in your planning so we can collaborate on your Couplescape journey from start to finish, it will help us to get a feel for what your dream is, who you are as a couple, and inspire us to come up with a totally new, crazy, and explore extraordinary ideas crafted just for you.
It's often a good idea for Couplescape Sessions, Engagement Sessions, or your wedding to think about what you want the background of your photos to be. What feeling will this give to your home, will it be a rustic farm feel or modern architecture, clean lines of the city or greenery in a field, water blue or woods green? If you are having a tough time planning where you would like to go have a look through our
Bucket List
it may inspire some ideas. Once you have chosen a scene for the background of your epic romantic artwork we can start working on the logistics of creating for you a masterpiece.
Most of our Couplescape Sessions require some planning, even if it's just thinking through wardrobe or travel plans, but some require more particular planning like a specific day, season, or a precise vantage point.
The timing of a couplescape can require precision either within the year (Fireworks for Canada Day), a season (fall colours), a day (low tide), or night (moon set). This may require some in-depth research, such as what time of year the Northern Lights are most likely to show, calculating what time of night the Milky Way is most predominant in the sky, or when is the lavender blooming so we can get a photo of a couple walking hand in hand among the Lavender fields of France. These are all things we need to have figured out before we even start planning when to make your Couplescape happen.
After we figure out time of year and day, then we need to figure out how to execute the actual photograph, this may include a specific lens that needs to be rented, different equipment like a fog machine, or a certain look through wardrobe.
Since most of our inspiration comes from landscape photography or places we have been, we are always thinking
"WOW, that would make a great Couplescape."
A photograph has to have been taken by someone right? If someone has already been to the exact location, why can't we get there? The next question is how do we get a couple into our photo? Can we? Well, the answer in our heads is always YES, of course, we can, it just a matter of figuring out how to do it.
Creating your beautiful showpiece may require hiking up a mountain or driving over desert roads until we get to the perfect location. We may then require finding a vantage point that works, or using a tripod with a remote trigger. Your artwork may need special lighting, flashes, trigger systems etc. or other equipment like a fog machine. We may also need to have an assistant along to help with wardrobe, lighting, and other equipment. All of this we need to have worked out, to our best guess, before we head out to create your couplescape.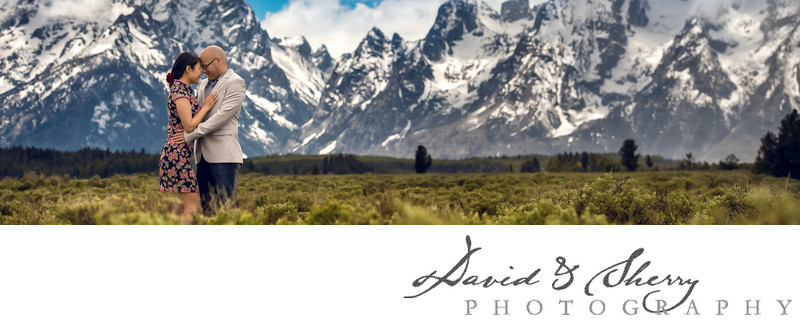 Once we have When, Where, How all figured out there's the matter of legalities, do we need a permit to photograph there? If the answer is yes than David and Sherry Photography will find out whom to contact and what is required from us and you.
I know this can seem daunting especially with all the wedding planning and life that is going on around you, well let us put your mind at ease we,
"David and Sherry thrive on the challenge of seeing your dreams come true."
We love doing the research, figuring out the details, and executing a seemingly impossible dream photograph. No matter where in the world or how out of the box your idea is we would love to hear all about it and help you create your masterpiece.
With the practical stuff taken care of, we can now start planning the fun stuff, travel and lodging, and wardrobe. We are happy to collaborate on where to stay and how to get there but we will book our own airfare, hotel, and transportation, so you don't have to worry about a thing. It is always our goal to give you less to worry about.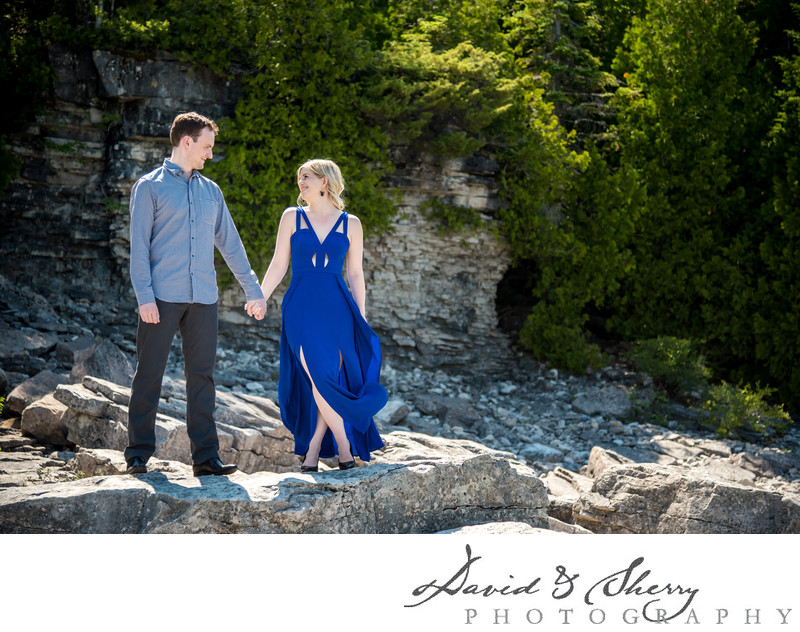 Next Wardrobe, the really fun stuff. We love this part because it's the culmination of the Couplescape, the feather in the cap, the final jewel in the crown.
A fashionable wardrobe give the artwork that je ne sais quoi.
It's very important to have the right attire, paired with the right shoes, polished off with the perfect jewelry. We want your Couplescape to be timeless, high fashion with drama and a sense of poise. We would recommend asking us for ideas as we have a vision of would be stunning. We start by putting together an idea board with the inspiration photograph or something close to it, include some outfit ideas for both of you, enhanced with shoes, jewelry, and headpiece concepts till we come up with the absolutely perfect look for your Couplescape.
That being said what you wear getting to the location of your couplescape will probably require more casual attire than what is displayed in your work of art, but then that's the magic behind the Couplescape, in hiking boots and pants one minute, flowing evening gown the next. Being prepared for the environment will help you to enjoy your Couplescape Session all the more, we would recommend dressing for the weather and location as if you were not doing a photo shoot but with your hair and make-up done. We will help you figure out how to change garments, and carry your clothes to the location if required. We have had brides scaling down cliffs with hiking pants and boots on under their dress, the dress is gathered up into a clean bag with a coat on over the top. We get to the bottom, placing the train of the dress in the perfect location (hiding the pants), switch out the shoes, remove the coat and voila a beautiful bride, in a gorgeous gown, standing on the precise spot, ready to pose for the most memorable photograph she will ever have taken. It's not inconceivable to have a couple hike to the top of a mountain, hide behind a rock to change, emerge from behind looking like they just stepped out of a limo onto the red carpet.
"This is the magic of the Couplescape."