Top Wedding Venues in Muskoka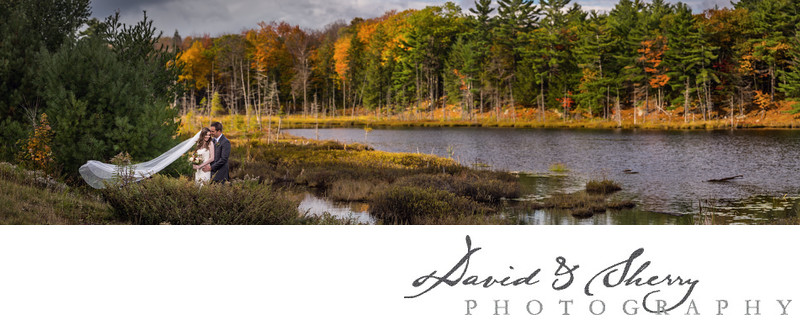 Muskoka Wedding Photography on Georgian bay
Ontario has some of the most beautiful destinations to get married in Canada. Most popular for the get out of the city locations is to the cottage mega destination of Muskoka and we have provided beautiful wedding photography coverage in Muskoka, Gravenhurst, Bracebridge, Huntsville, Lake Muskoka, Muskoka beach, Hidden Valley, Port Stanton, Severn Falls, Severn Bridge, Sparrow Lake, Sunny Lake, Loon Lake, Rosseau, Lake Rosseau, Port Sydney, Port Carling, Milford Bay, Basville, Dorset, Bala, Midland, and Perry Sound.
Muskoka is best known as the Toronto destination for weekend cottagers. There are many large and luxurious cottages which line the lakes and even famous celebrities have cottages in the Muskokas including Martin Short, Jim Carrey, Steven Spielberg, Kate Hudson and Tom Hanks which just gives credence to the fact that this is a world class destination for relaxation and an escape from the city. The 400 highway from Toronto is packed on Friday heading north and packed Sunday heading south as a result of the popularity of the area. As you're driving around the countryside it feels like each cottage or home has it's own small little spot and it's not until you get on the lakes that you realize how many homes there are that line the water. We have shot many weddings at private cottages which each give a unique feel to the day as well as a sense of seclusion where you are all by yourselves and you have the Ontario countryside all for your wedding. If you don't happen to have your own cottage on the water there are so many world class resorts and wedding venues in Muskoka that can house both small and large weddings including, Windermere House, JW Marriott Rosseau Muskoka resort, Muskoka Bay Club, Brooklands Farm, Hidden Valley Resort, Taboo Resort, Trillium Resort, Severn Lodge, and Deerhurst Resort. All of which we have had experience at and can attest to the true service nature of the area and they will take care of all of your needs for your wedding.
PRIVATE COTTAGE WEDDINGS IN MUSKOKA
Many people choose to host their wedding at a Private Cottage in Muskoka and there are a number of ways you can tailor your property and elevate it to be an exquisite luxury event. There are many things you can do to make your wedding look stunning and here are some ideas:
Wedding Decor Choices:
This is probably the biggest and best way to make your luxury private cottage wedding because it gives you every design option to pair to your wedding theme. Choosing your centrepieces is of huge importance and probably the most important piece of the decor theme. You can read more about tabletop decor here:
https://weddingstylemagazine.com/inspiration/planning/tabletop-decor
Aside from reception decor you can decorate a tent for the reception in the same manner as you can see in this image: (INSERT SAUGEEN TENT WEDDING PICTURE)
Florals, Bouquets and Landscaping:
On every wedding day a bride must decide what she wants to do for her bouquet, whether it will be orchids or red roses, which I will leave for other professionals to advise on but specific to cottage weddings is to pair those colours together with the landscaping and flowers of your property. Because you have full control over what is planted at your own place you can choose the colour of geraniums you plant or which flower to line the walkway with that will bloom at the right time of your planned event. We have had couples re-do the stone work and masonry around the cottage to improve the drainage for 200 guests walking around the property and others who have had their florist create large bouquets to line the entrance to the home and the tent. The theme continues for the day from start to finish so if you are having a dock ceremony and a tent reception in the front yard what will the walkway to the dock look like and will it have the necessary facilities to allow all of your guests both young and old get to the seating area?
There is lots to think about and many options available to add little touches of awesome throughout your day.
How Many People can the Dock Support?

If you are having the ceremony on the dock, how many people will it support? Having 100 people on a floating structure is much different than an engineered and constructed dock. Some will have dock seating and shoreline seating or standing area.
Have Sun/Rain and Cold/Warm Options:

Consider all of your options. Your day could be warm or cold, wet or dry. What is your backup plan if it decides to rain or your guests are cold. Fortunately with tents you can take care of both options and can move the tables aside and set the chairs inside in order to have the ceremony in a covered area if needed, and you can rent large heater units to bring the temperature of the tent up to comfortable. Make sure if you have a large tent to have a heater at both ends, otherwise your guests will be huddled up "visiting" their friends at the table beside the heater.
Remember there is always the option of having the ceremony outside in your dream location even on a rainy day as it's possible to have a clearing for a shorter period of time and go enjoy your nuptials on the lake, then head back to the tent or cottage for the cocktail hour in a covered environment.
Considerations for the Cottage:
When you are planning the getting ready of your day it is an excellent idea to choose a large room with big windows for the dressing of the bride. It is not practical to fit 7 bridesmaids 2 mothers a photographer and a videographer in a small bedroom with a bed taking up most of the space while the bride gets into her dress. Choose one of the main rooms with lots of space for the bride getting ready. The guys don't need very much space so we will put can put them in the bedroom.
The cottage will need to be many different things including the cocktail reception space if outside isn't an option or as an extension to the space and we need to consider 100 people walking through the building. As such it may be a good idea to remove some of the furniture into the garage or into a temporary storage unit in order to make clear wide open spaces needed for 14 people to pass each other at once. Where you serve the beverages during this time will also play a big part as to where the areas of most traffic will be.
DJ and Lighting:
If you'd like your day to end with an awesome party hire a good DJ. On top of being able to control the dance floor by reading the crowd and keeping the dancing going for hours they often have creative lighting options to transform a seemingly quaint and beautiful cottage into having a night club feel.
Hiring a Good Caterer:
We all love great food.
Hire a Valet and Consider Parking
Transportation is always a main concern. Having enough space to park vehicles where people can get to your event is very important. If the spaces available to you are further away you can consider hiring a valet service to come in and take care of the walking between parking areas. Sometimes you can talk to your neighbours about using their properties as well.
For Island Weddings Consider Water Transportation
This one is obvious but if your cottage is on an island make sure you think through the parking situation as well as transportation to and from the island during all hours of the night as well as the arrival times.
What Lodging Options?
What lodging options are available to your guests? If there aren't enough hotels available can you rent cottages nearby for the weekend through Airbnb or VRBO?
We have attended and photographed many private cottage weddings across Canada. If you have questions or would like to talk through some of your options or out of the box ideas please drop us a note and we would be happy to help.